CRYOTHERAPY : RECOVERY BY COLD
Cryotherapy is the use of cold in various forms to reduce muscle pain after intense physical effort. The effects of a short duration cold on the body are positive and multiple. It can reduce recovery time after an effort or a shock, temporarily reduce the sensation of pain, or increase physical and psychological tone. 
The Cryobain ensures that a refrigerated bath is always available and will effectively complete your therapeutic arsenal. 
Sport Recovery by cold bath
Cryobain focuses on the cold bath and the Cold Water Immersion (CWI) technique, which consists of immersing the body in an icy water bath.
Since the 1990s, immersion in cold water after exercise is a practice widely used by athletes to optimize recovery and therefore performance. The cold bath finds its virtues in the combination of two factors: 
• Hydrostatic pressure (caused by water) 
• The vasoconstriction mechanism produced by the cold. 
The combination of water and cold will promote venous return and the secretion of endorphins. This hormone, secreted by the human body in response to cold, will have an analgesic effect (reducing the sensation of pain) during the treatment. This combination of water and cold will also help to reduce and prevent pain caused by aches and pains. 
The ice bath in our cryotherapy cabins will have an invigorating effect on the lower limbs and on the whole body, a global boost and will fight against the sensation of heavy legs thanks to a thermal shock. 
To take advantage of this technique, the immersion in cold water must be done in a more or less prolonged way according to the type of efforts produced. This immersion in the cold bath will allow you to recover more quickly and thus be able to continue the sessions. 
The two purposes of the cold bath: physical recovery and treatment of pain.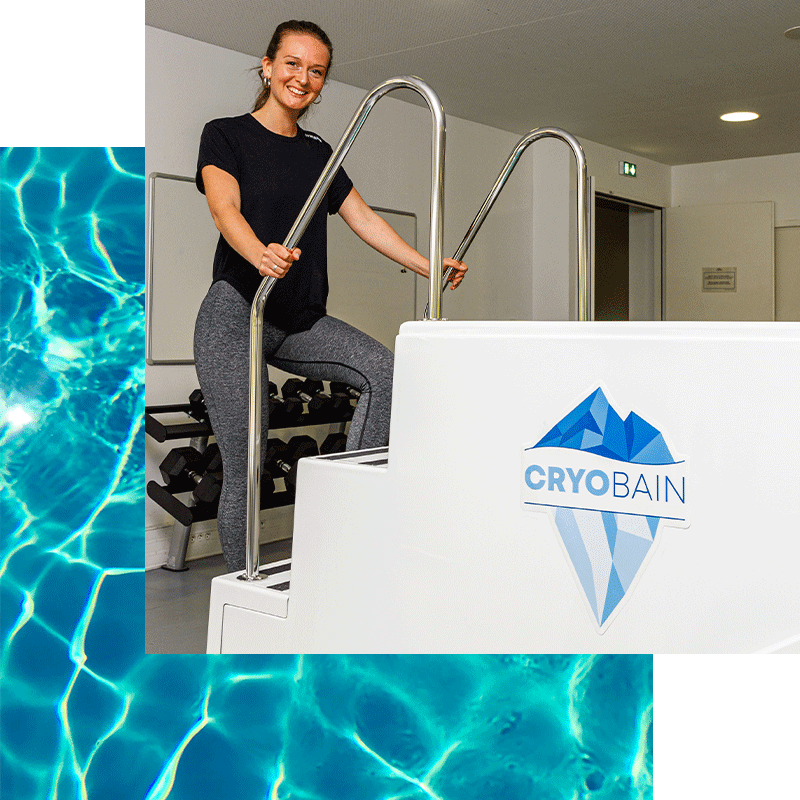 The Cryobain replaces artisanal cryotherapy such as ice cube trays and puts an end to the problems of ordering, storing and handling ice. It guarantees better hygiene and temperature control. 
Stimulates blood circulation
• 1 hour after the effort maximum 
• Adjustable cold bath with refrigerated water between 7°C and 12°C 
• After effort or trauma
• In synergy with balneo (spa, sauna, hammam)
• From 3 to 8 minutes (ideally as much time as there are degrees: 8°C = 8min)
• Possibility of splitting cold bath / hot bath (end with cold)
• Possibility to repeat if shorter passages (from 1 to 6 times maximum)
• Several treatment modes – partial or total (feet, ankles, thighs, pelvis, full body immersion) 
The Cryobain will promote muscle recovery for athletes, in addition to care, good hydration and quality sleep. The objective? Improve the recovery process to optimize performance by stimulating the body and mind. 
For any information, we invite you to contact us via the form below. We will be happy to answer you as soon as possible.